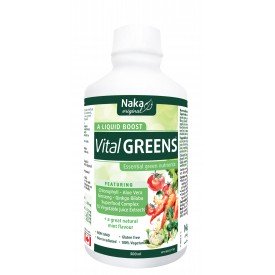 Regular price
Naka Vital Greens 500mL
---
VITAL GREENS LIQUID
NON GMO
Gluten free
Non Irradiated
100% Vegetarian
Ginseng to help energize
Chlorophyll to detoxify and deodorize
Nutrients and botanicals help with digestion
Superfood Complex to aid pH balance and help stop craving
Take just one liquid tablespoon a day!
Vital GREENS is a 100% vegetarian herbal formula that provides green nutrients, botanicals and vegetables in a great tasting mint fl avoured liquid.
Superior absorption
Ginseng to help energize
Ginkgo to improve alertness
Chlorophyll to detoxify
Nutrients and botanicals to aid digestion
Less than 0.25 gm of carbs per serving
RECOMMENDED PURPOSE OR USE:
Used in herbal medicine to help improve mental and/or physical performance after periods of mental and/or physical exertion.
Used in herbal medicine as a tonic to help relieve general debility and/or to aid during convalescence.