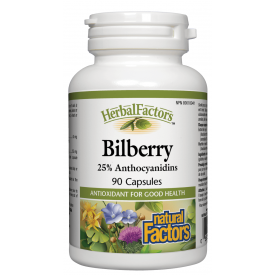 Regular price
Natural Factors HerbalFactors® Bilberry 90 Capsules
---
Improves visual acuity and night vision while reducing eye strain
Supports microcirculation, and promotes healthy blood vessel integrity
Useful for glaucoma, diabetic retinopathy, and other artery, vein, and capillary disorders
Helps protect LDL ("bad") cholesterol from oxidative stress
Supports collagen formation and may help in the treatment of inflammatory joint conditions
HerbalFactors standardized bilberry extract guarantees 25% anthocyanidins. These potent antioxidants are widely used for vascular and eye health. In particular bilberry improves visual acuity, helps with glaucoma and diabetic retinopathy, and reduces eye strain. It also supports collagen formation and helps prevent the oxidation of LDL cholesterol.
Bilberry (Vaccinium myrtillus) is the European cousin to the blueberry and contains active ingredients that support vision. It was frequently used by World War II RAF pilots to enhance night vision.
Studies with bilberry show that it helps eyes adapt to the dark, especially after prolonged exposure to bright light and improves visual acuity in dim light. The active ingredients in bilberry, anthocyanosides, are a group of flavonoids that increase the production and integrity of collagen, a protein that forms connective tissue in the body. Bilberry is also used to treat artery, vein and capillary disorders. Bilberry extract has become the leading herbal prescription for the maintenance of healthy vision and for the treatment of many eye diseases.