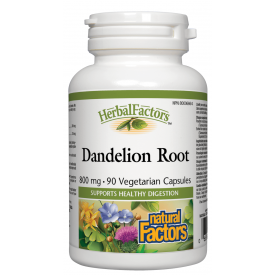 Regular price
Natural Factors HerbalFactors® Dandelion Root 90 Veggie Caps
---
HERBALFACTORS®
DANDELION ROOT
Supports liver and gallbladder health
Helps remove excess toxins and hormones from the liver
Increases bile production
Improves blood quality
Aids in rheumatic conditions
Dandelion Root is a great product for maintaining digestive health. It stimulates the release of bile from the gallbladder and improves liver function. It helps the liver detoxify and helps purify the blood. Dandelion root also promotes regularity of bowel movements, improves appetite, skin conditions, and restores gastric balance.
Dandelion root (Taraxacum officinale) benefits liver function and stimulates the release of bile from the gallbladder. It has the ability to clear obstructions and stimulate the liver to detoxify poisons. Dandelion contains all the nutritive salts that are required for the body to purify the blood. It promotes a healthy circulation, strengthens weak arteries, cleanses skin blemishes and restores the gastric balance in patients who have suffered from severe vomiting. It increases bile secretions and stimulates digestion. Its anti-inflammatory activity relates to its use for rheumatic conditions.
Dandelion root is a natural source of protein. It is rich in vitamin A and is an excellent source of vitamin B, C and E. Dandelion also contains minerals such as potassium, calcium and sodium, as well as phosphorus, iron, some nickel, cobalt, tin, copper and zinc.