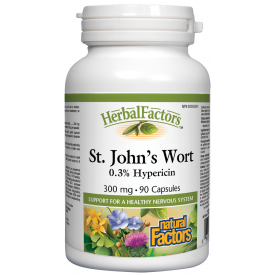 Regular price
Natural Factors HerbalFactors® St. John's Wort 300mg 90 Capsules
---
HERBALFACTORS®
ST. JOHN'S WORT 300 MG
Helps treat symptoms of sleep disorders
Natural sedative for relief of restlessness or nervousness
Helps relieve some PMS and menopausal symptoms
St. John's Wort is a full-spectrum extract, containing guaranteed levels of 0.3% hypericin. Studies support the use of St. John's Wort extract for improving mood and sleep, while reducing feelings of sadness or hopelessness. People with diagnosed clinical depression or on antidepressant medication should only use St. John's Wort under the supervision of a health care practitioner.
St. John's Wort (Hypericum perforatum) has long been considered a popular herbal remedy due to its mood-lightening ability. It was highly valued for its medicinal properties by the physicians of ancient times. Hippocrates, Pliny, Dioscorides, Theophrastus, and Galen all documented its healing properties.
St. John's Wort was used for the treatment of nervous disorders such as restlessness, anxiety, and depressive moods. Modern science has confirmed its effects on the nervous system and has found that the herbal extract can also improve the quality of sleep by extending the periods of deep sleep. Traditionally, St. John's Wort was also used to heal burns, bites, and other wounds. We now know it has antibacterial and antiviral properties. Furthermore, it may help in reducing hot flashes in menopausal women.
Natural Factors St. John's Wort is a standardized extract that delivers a consistent and potent dose of the active ingredients to help balance mood, improve sleep, and relieve restlessness and nervousness. Most people will notice a difference after one week of use, and maximum benefits are typically seen after six to eight weeks of continued use.