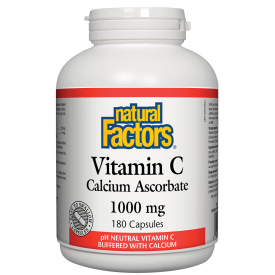 Regular price
Natural Factors Vitamin C Calcium Ascorbate 1000mg 180 Capsules
---
pH neutral
Highly bioavailable and lasts longer in cells
Enhances immune system
Promotes wound repair
Builds strong, healthy bones and teeth
Powerful antioxidant
Improves circulation and the appearance of varicose veins
Gentle on the stomach
Vitamin C is a powerful vitamin with infection-fighting properties, playing a large role in immune system function. Vitamin C is crucial for the formation of collagen, making this vitamin very important for wound repair, healthy gums, strong bones and teeth, and in the prevention of bruising.
As a powerful antioxidant, it protects the aqueous areas of the body (including the blood, intracellular fluid and interstitial fluid) from free radicals. Because it is a water-soluble vitamin, the body cannot store vitamin C, making regular supplementation vital.
This vitamin C formula is buffered with calcium and recommended for individuals who experience gastrointestinal discomfort with supplementation of vitamin C. It can be taken therapeutically at higher daily doses without gastrointestinal side effects.
Equally important, calcium ascorbate also replenishes the calcium that is excreted in the urine due to the chelating properties of vitamin C. Calcium also allows vitamin C to remain in the cells for a longer period.