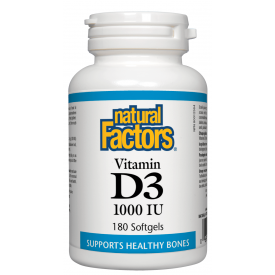 Regular price
Natural Factors Vitamin D3 1000 IU 180 Softgels
---
VITAMIN D3 1000 IU
Aids in the development and maintenance of bones and teeth
Helps reduce the risk of developing osteoporosis when combined with adequate calcium
Supports healthy immune system function
Supports mother and child's health during pregnancy and lactation
Plays a role in reducing the risk of some cancers
Vitamin D is made naturally in the skin from exposure to the sun's ultraviolet rays. Vitamin D is a nutrient that helps in the development and maintenance of bones and teeth and helps your body absorb calcium and phosphorus. It also helps your muscles, nerves and immune system work properly.
Natural Factors Vitamin D3 provides the natural form of vitamin D that is essential for the absorption of calcium and phosphorus. These minerals are needed for successful bone mineralization and maintenance, as well as muscle function and proper nerve transmission.
Each dose delivers 1000 IU of vitamin D3 so that sufficient levels can be maintained conveniently when dietary intake and exposure to the sun's ultraviolet rays is low. When combined with an adequate calcium intake, each daily tablet will help prevent the brittle, weak bones of osteoporosis and support a healthy immune system. Vitamin D3 is also an important factor in reducing the risk of cognitive dysfunction.
Vitamin D3 1000 IU is suitable for vegetarians and contains no artificial colours, preservatives, sweeteners, or common allergens, making it a safe product that can be recommended for the health of both mother and child during pregnancy and lactation. This product contains no GMOs and is a key factor in the maintenance of good health.
Medicinal ingredients
| | |
| --- | --- |
| Each softgel contains: |   |
| Vitamin D3 (cholecalciferol) | 1000 IU (25 mcg) |
Non-medicinal ingredients
Organic flaxseed oil, softgel (gelatin, glycerin, purified water).