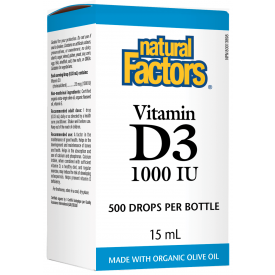 Regular price
Natural Factors Vitamin D3 Drops 1000 IU 15mL
---
VITAMIN D3 DROPS 1000 IU
Assists in the development and maintenance of bones and teeth
Helps reduce the risk of developing osteoporosis when combined with adequate calcium
Contributes to mother and child's health during pregnancy and lactation
Helps prevent vitamin D deficiency
A factor in the maintenance of good health
Natural Factors Vitamin D3 supports the development and maintenance of bones and teeth, while helping the body absorb calcium and phosphorus. Each drop of this easy-to-take liquid formula provides 1000 IU of vitamin D3 in a base of MCT oil from coconut and RSPO-certified palm kernel for enhanced absorption.
Natural Factors Vitamin D3 1000 IU is a potent liquid supplement carefully blended with medium chain triglyceride (MCT) and flaxseed oils. Known as the "sunshine vitamin", vitamin D is usually synthesized by the skin through sun exposure. However, many experts recommend supplemental vitamin D as decreased sun exposure puts many at risk of vitamin D deficiency. Vitamin D3 is the preferred cholecalciferol form, which is the most biologically active form of vitamin D.
Vitamin D3 is essential for strong bones and teeth as it increases the body's absorption of calcium and phosphorus from food. When combined with adequate calcium intake, it helps prevent the brittle, weak bones of osteoporosis. Vitamin D supplementation is important during the winter season when there is limited sunlight and the body is not able to produce its own vitamin D sufficiently. People with lactose intolerance, digestive problems, breastfed infants, individuals with darkly pigmented skin, and adults over 50 years are more likely to need additional vitamin D.
Vitamin D3 1000 IU is unflavoured and contains 500 drops per bottle. It is free from artificial colours, preservatives, sweeteners, and GMOs, making it a recommended product for vitamin D support during pregnancy and lactation.
Medicinal Ingredients
| | |
| --- | --- |
| Each serving/drop (0.03 mL) contains: |   |
| Vitamin D3 (cholecalciferol) | 1000 IU (25 mcg) |
Non-Medicinal Ingredients
Medium chain triglycerides (coconut and RSPO certified palm kernel), organic flaxseed oil, natural vitamin E.