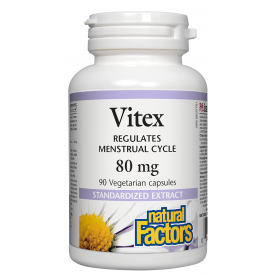 Regular price
Natural Factors Vitex Standardized Extract 80mg 90 Veggie Caps
---
VITEX STANDARDIZED EXTRACT 80 MG
Reduces headaches
Decreases feelings of anxiety or irritability
Stabilizes mood swings
Decreases breast tenderness
May increase milk production for nursing mothers
Natural Factors Vitex Standardized Extract helps balance female hormones to reduce the symptoms of PMS. This formula provides support for the female reproductive system, while effectively relieving the symptoms of PMS, including breast tenderness, bloating, fatigue, and irritability. Each vegetarian capsule contains vitex, standardized to 0.6% aucubin.
Vitex agnus-castus (Chastetree berry) has been used for thousands of years to treat female hormonal disruptions, ranging from premenstrual syndrome (PMS) to menopause. Vitex has an effect on the pituitary gland, which is located in the brain and produces hormones that stimulate the production of sex hormones in other areas of the body.
Clinical studies show that Vitex has the ability to reduce headaches, breast tenderness, bloating, fatigue, sweet cravings and irritability. It contains chemicals that have the ability to stimulate progesterone receptors and favour the production of luteinizing hormone (LH) over follicle stimulating hormone (FSH). These hormones are used in the female body to support pregnancy and lactation, but their effects can also help other female complaints.
Vitex helps increase progesterone levels and normalize prolactin levels, restoring estrogen-progesterone balance to ease symptoms of PMS. Excess estrogen combined with a deficiency in progesterone can cause disruptions in the menstrual cycle. Elevated levels of prolactin results in breast tenderness and pain, two classic symptoms of PMS.
Natural Factors Vitex Standardized Extract is standardized to ensure consistent levels of the major plant active aucubin. The vegetarian capsules are free from artificial preservatives, colours or sweeteners, dairy, soy, wheat or yeast.