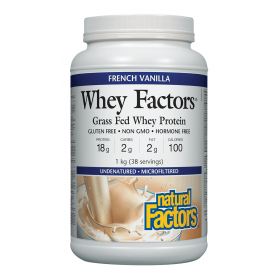 Regular price
Natural Factors Whey Factors® Grass Fed Whey Protein French Vanilla 1kg
---
WHEY FACTORS® 100% NATURAL WHEY PROTEIN
FRENCH VANILLA
Builds and maintains lean muscle mass
Enhances the immune system by stimulating antibody production and phagocytosis
Aids in weight loss by increasing satiety
Increases production of beneficial antioxidant enzyme glutathione (GSH)
Natural Factors Whey Factors is a high-quality, low-carbohydrate protein powder drink mix, essential for physically active individuals due to its high biological value and concentration of muscle-enhancing branched-chain amino acids (BCAA). Research also shows that whey protein is beneficial to children, the elderly, and those who are immune-compromised.
Considered the "gold standard" for athletes and the physically active, it is well-known that whey protein has the highest "biological value," a measurement of how well a protein retains nitrogen or how usable it is to the body, as high nitrogen absorption enhances muscle gain. Compared to other proteins, whey contains the highest concentration of branched-chain amino acids (BCAA) that serve as important fuel sources for skeletal muscle during periods of metabolic stress, including exercise.
In addition to its role in sports nutrition, whey protein is also a functional food with tremendous implications for general human health. It provides heart health benefits, enhances immune function, and helps maintain a healthy body weight and promote bone health. It is also a great alternative for parents who wish to boost their child's nutritional status.
Whey Factors whey protein offers the highest quality and best-tasting whey protein, and is conveniently available in a variety of delicious natural flavours, in single-serving pouches, and 1 kg bottles. Whey Factors whey protein is sourced from grass-fed cattle, using natural Cross Flow Microfiltration and special care during processing to protect undenatured whey; it contains no artificial sweeteners or GMO ingredients, and is rBGH &BSE-free.