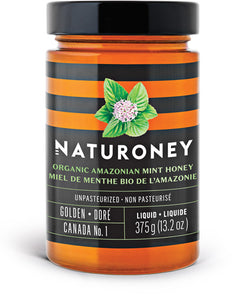 Regular price
Naturoney ORGANIC AMAZONIAN MINT HONEY
---
Our organic honey from the Brazilian Amazon is sourced mainly from peppermint. This purple-flowered plant grows abundantly in the wild.
The golden-coloured honey surprises with an unexpected taste. It has a big aroma, but is more restrained in the mouth, with a mild taste and refreshing finish.
HOW TO ENJOY IT
Organic Amazonian Mint Honey is ideal in tea or mixed into a fruit salad to add a refreshing touch. Add on strawberries, it's decadent.