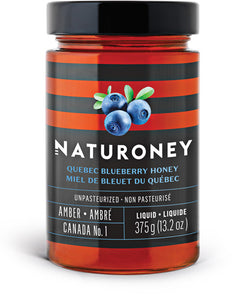 Regular price
Naturoney QUEBEC BLUEBERRY HONEY
---
Each year in June, over 8,000 hives are moved to Lac-Saint-Jean to pollinate the blueberry plants. When the plants are blossoming, the pollinating bees collect the blueberry nectar, increasing the harvest of berries four-fold.
Amber coloured, the resulting honey has a slightly full blueberry taste with a spicy note on the finish.
HOW TO ENJOY IT
Drizzle some over plain yogurt for a tasty touch.