Regular price
New Chapter Turmeric Force Nighttime
---
Traditionally used in Herbal Medicine as a sleep aid, New Chapter Turmeric Force Nighttime can also be used as an anti-inflammatory to help relieve joint pain. 
Features:
Combines multiple time-tested herbs including full spectrum Turmeric for joint pain and Valerian for sleep
The addition of Holy Basil offers increased resistance to stress
Soothing Chamomile, Hops and Lemon Balm provide complimentary herbal phytonutrients
Turmeric Force Nighttime's herbal blend delivers the full-spectrum of whole herbs, not isolated compounds
New Chapter's full-spectrum process extracts precious plant compounds to preserve Nature's full complexity, delivering a super-pure, concentrated herbal extract
Directions:
Adults: Take 2 capsules 30 to 60 minutes before bedtime.

Supplement Facts: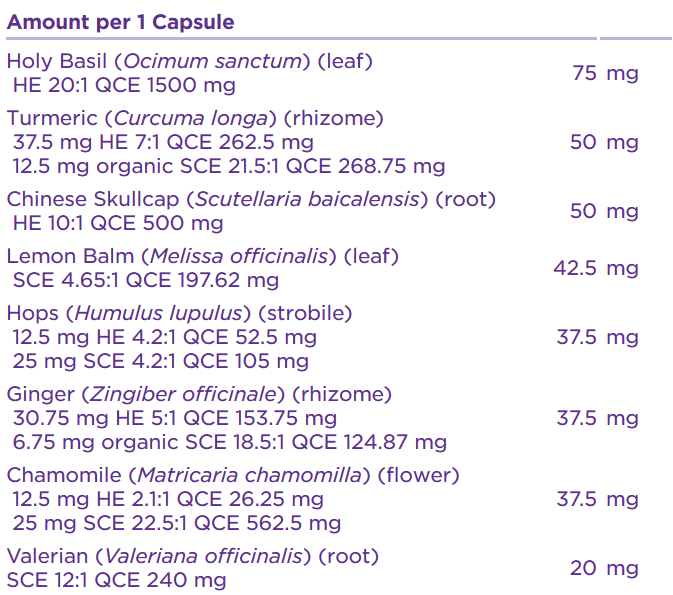 HE = Hydroethanolic Extract
SCE = Supercritical Extract
QCE = Quantity Crude Equivalent

Non-medicinal Ingredients:
Extra-virgin olive oil, maltodextrin, hypromellose (capsule), organic yellow beeswax, candelilla wax, organic olive oil, magnesium carbonate and silicon dioxide.

Cautions and warnings:
Some people may experience drowsiness. Exercise caution if operating heavy machinery, driving a motor vehicle or involved in activities requiring mental alertness within 2 hours of consumption. Consumption with alcohol, other medications or natural health products with sedative properties is not recommended. Consult a healthcare practitioner if sleeplessness persists continuously for more than 3 weeks (chronic insomnia). Consult a healthcare practitioner prior to use, if you are breastfeeding or taking any heart or blood pressure medication. Consult a healthcare practitioner prior to use if you have diabetes, heart condition, gallstone or a bile duct obstruction, stomach ulcers or excess stomach acid, depression or diseases related to depression.

Contraindications:
Do not use if you are pregnant. Do not use if you are allergic to plants of the Asteraceae/Compositae/Daisy family.