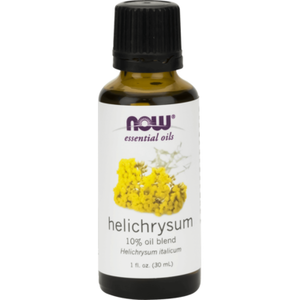 Regular price
NOW Essential Oils Helichrysum Oil
---
NOW Essential Oils Helichrysum Oil allows you to enjoy the sweet, herbaceous and earthy scent that is is soothing, rejuvenating and stimulating. It mixes well with lavender, bergamot, rose and cypress.
Features:

10% Oil Blend
Helichrysum italicum
Aroma: Sweet, herbaceous, earthy.
Attributes: Soothing, rejuvenating, stimulating.
Mixes Well With: Lavender, bergamot, rose, cypress
Extraction Method: Steam Distilled from flowering tops.
Purity Tested / Quality Assured
Ingredients:
Pure jojoba oil & pure helichrysum oil (immortelle).
Risk Information:
Natural essential oils are highly concentrated and should be used with care. Do not use in a diffuser.
Caution:
Keep out of reach of children. Avoid contact with eyes. If pregnant or lactating, consult your healthcare practitioner before using. Not for internal use.