Regular price
NOW Foods Aloe Vera 50 mg
---
Aloe Vera contains a variety of nutrients, including vitamins, minerals, enzymes and amino acids. Aloe Vera possesses some unique properties that can be healing and protective. Aloe Vera is one of the few treatments that has a dual action that can stimulate peristaltic action (stimulant laxative), while also softening stools. Softgel delivery offers convenience versus liquid ingestion, plus can avoid taste concerns.
Features:
Used in herbal medicine as a demulcent to help soothe irriration/inflammation of the gastrointestinal tract
High Level of Mucopolysaccharides
Supports Healing Process
Traditionally used as a laxative
Gentle on your system
Convenient and tasteless delivery

Suggested Usage:
As a dietary supplement, take 3 softgels 2 to 3 times daily, on an empty stomach.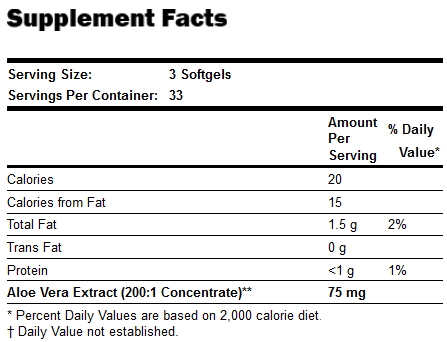 Other Ingredients:
Rice Bran Oil, Softgel Capsule (gelatin, glycerin, water), Beeswax and Silica.
Natural colour variation may occur in this product.
Naturally occurring particulates may be visible in the aloe vera.
Contains No:
 Sugar, salt, starch, yeast, wheat, gluten, corn, soy, milk, egg, shellfish or preservatives.