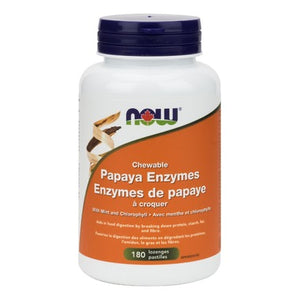 Regular price
NOW Foods Chewable Papaya Enzymes With Mint & Chlorophyll
---
Our bodies create digestive enzymes as an essential way to absorb nutrients and make the full use of the food we eat. Unfortunately, this is to diminishing returns as our bodies age and produce less and less enzymes. NOW® Papaya Enzyme Lozenges have a refreshing taste and support digestion when taken after meals. The tablets are made from whole, unripe, spray-dried Papaya powder, and contain 40 mg of Papaya per Lozenge. In addition, Protease, Lipase and Cellulase have been included for a full spectrum of enzymatic activity.
Features:
Digestive enzymes to help digest proteins
Source of antioxidants that help protect against cell damage caused by free radicals
Aids in food digestion by breaking down protein, starch, fat, and fibre
Chewable Digestive Enzyme
With Mint and Chlorophyll for fresh breath
Vegetarian / Vegan

Suggested Usage:  As a dietary supplement, chew or dissolve 2 lozenges in mouth following meals or as needed.  Consider taking this product in combination with NOW G.I. Support, Optimal Digestive System and DGL.

Other Ingredients:  Sorbitol, Mannitol, Stearic Acid (vegetable source), Magnesium Stearate (vegetable source), Silica, Peppermint Powder, Peppermint Oil and Sodium Copper Chlorophyllin. Vegetarian/Vegan Product.

Contains no:  salt, starch, yeast, wheat, gluten, soy, milk, egg, shellfish or preservatives.