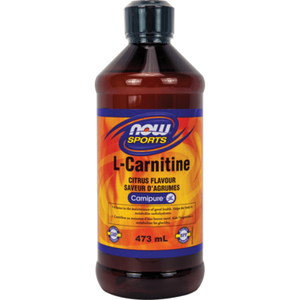 Regular price
NOW Sports L-Carnitine Citrus Flavour Liquid
---
NOW Sports L-Carnitine Citrus Flavour Liquid contains the non-essential amino acid that helps to maintain overall good health by facilitating the transfer of fatty acid groups into the mitochondrial membrane for cellular energy production. It naturally occurs in red meat and other animal source foods, but it's recommended to have supplementation to obtain optimal levels of this excellent amino acid. NOW uses only Carnipure™, a special grade of L-Carnitine (L-carnitine tartrate) and the most researched form and brand, manufactured by the Swiss life sciences company Lonza. NOW L-Carnitine is the purest form, clinically tested, and vegetarian (non-animal sourced). Our Liquid Carnitine has the added co-factors Vitamin B6 and Pantothenic acid to aid further energy production. Delicious liquid foram allows for controlled dosing and can be taken direct form spoon or added to beverages or health shakes.

Features:

Helps to aid in recovery from exercise
Helps to reduce muscle soreness after physical exertion
Delicious citrus flavoured Liquid
Vegetarian / Vegan
Highly Absorbable

Directions:

 

Adult Dosage: Take one tablespoon (15 mL) twice daily with meals. Consult a health care practitioner for use beyond 8 weeks.


Ingredients:

 

Each tablespoon (15 mL) contains:

L-Carnitine (Free-Form)(Carnipure™) 1000 mg
Vitamin B6 (From Pyridoxine HCl) 2 mg
Pantothenic Acid (From Calcium D-pantothenate) 10 mg

Non-Medicinal Ingredients:

 

Water, Vegetable Glycerin, Malic Acid, Citric Acid, Natural Flavours, Potassium Sorbate, Stevia and Lemon Oil.

Caution:

 

Do not use if you are pregnant or breastfeeding. If you are taking any prescription medication or have a serious disease, consult a healthcare practitioner prior to use. If you have been instructed to follow a low protein diet, consult a healthcare practitioner prior to use.