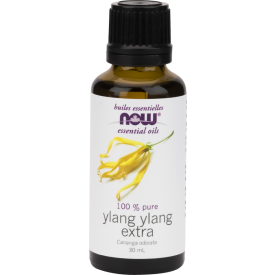 Regular price
NOW Ylang Ylang Oil 30mL
---
YLANG-YLANG EXTRA OIL
MADE W/O GLUTEN
HEXANE FREE
NON-GMO
STEAM-DISTILLED
VEGAN/VEGETARIAN
PRODUCT DESCRIPTION
100% Pure
Cananga odorata
Aroma: Pleasant, floral.
Attributes: Soothing, comforting, romantic.
Try "Exotic Nights" or "Cloud 9" - two recipes using Ylang Ylang Oil. View all of our recipes.
Cloud 9 Blend:  Add 1 drop each of ylang ylang oil and rose absolute oil, 5 drops of patchouli oil and 4 drops of sandalwood oil blend to a diffuser and enjoy.
Mixes Well With:  Citrus oils, clove oil, jasmine, patchouli oil, rose oil.
Ingredients:  Pure ylang ylang (Cananga odorata) extra oil
Extraction Method:  Steam Distilled from plant's flowering tops.