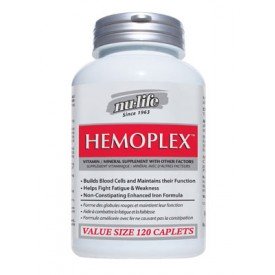 Regular price
Nu-life Hemoplex
---
Hemoplex™ tablets are an enhanced iron formula designed to build healthy blood and protect the vessels that deliver blood to the body. Hemoplex™ tablets help fight daily fatigue, builds resistance to stress and promotes greater energy production. Safe and easy to assimilate, Hemoplex™ tablets features iron, vitamins, minerals and antioxidants to support healthy iron levels.
Adults, take one caplet daily with a meal.
Features:
Anti-homocysteine factors for protection
Easy digestion formula
Benefits:
Helps to prevent iron deficiency anaemia
Highly absorbable form of iron
Greater amount of Vitamin B complex versus leading brand
Added Vitamin C with to enhance absorption
Free of yeast, gluten, alcohol and preservatives
Keep out of the reach of children. There is enough iron in this package to seriously harm a child.