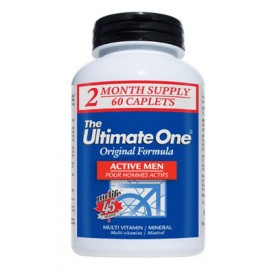 Regular price
Nu-Life The Ultimate One Active Men Multivitamin
---
The Ultimate One™ Original Active Men is a multiple vitamin/mineral formula that provides nutrients that may have been lost to physical stress and a high active lifestyle. It features highly absorbable vitamin and mineral forms, a high-potency B-complex to help combat stress and increase energy, a potent antioxidant blend to protect against the damages of exercise and aid recovery. Increased dosages of iron and chromium help improve physical performance. Standardized herbals help sexual gland function, energy, stamina and recovery. Achieve more with the Ultimate One™ Original Active Men.
Features:
◦Bisglycinate form of minerals (Twice the absorption of other brands)
◦Coenzyme form of B2, B6 & B12 (Twice the absorption of other brands)
◦High antioxidants, B vitamins & Chromium (Improves exercise performance)

Side benefits:
◦Improved Energy
◦Exercise Support
◦Improved Recovery from Activity
◦Blood Sugar Management
◦Prostate Health
◦Immune Support
◦Male Health Support
SUGGESTED USE:
Adults, take one caplet daily with a meal.
SUPPLEMENT FACTS: