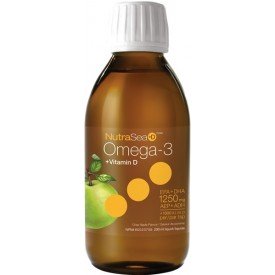 Regular price
NutraSea+D Omega-3 Crisp Apple 200mL
---
NUTRASEA+D™ CRISP APPLE
A BALANCED FORMULA COMBINED WITH 1000 IU OF NATURAL VITAMIN D
For general well-being with the added immune support of vitamin-D
Great tasting omega-3 supplement
NutraSea+D is a balanced omega-3 supplement with the added benefits of 1000 IU of vitamin D. NutraSea+D helps in the maintenance of overall good health, cardiovascular health, helps lower triglycerides in those aged 14 years and older, and supports healthy bones and teeth. It's also beneficial in the development of the brain, eyes, and nerves in children up to 12 years of age.
MEDICINAL INGREDIENTS
Fish oil (anchovies, sardines, mackerel, herring)
4.53 g
Vitamin D3
1000 IU
TOTAL EPA + DHA
1250 mg
EPA
750 mg
DHA
500 mg

NON-MEDICINAL INGREDIENTS

natural flavours, tocopherols (soy), green tea extract, medium chain triglycerides.