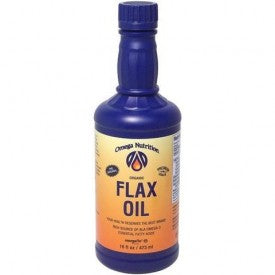 Regular price
Omega Nutrition Organic Flax Oil 473ml
---
Only available for click and collect/curbside pick up. 
No returns on perishable products. 
Cold-Pressed and Certified Organic
100% Vegan
Unrefined and Non-Hydrogenated
Grown Without Pesticides or Artificial Fertilizers
Free of Trans-Fatty Acids
No Additives
No Preservatives
No Bleaching agents
No Hexane
No Soy
No Dairy
NON-GMO
Gluten Free

Is organic and a source of omega-3 polyunsaturates and has a delicious nutty flavor. Its delicate and valuable nutrients are protected from heat, light and oxygen by our unique omegaflo® process. This completely unrefined oil contains no additives, preservative, bleaching agents, hexane, soy or dairy.

Omega Nutrition's Flaxseed Oil is nature's finest quality. It is the freshest unrefined, certified-organic flax seed oil available. Grown without pesticides or artificial fertilizers, we cold-press and process at low temperatures to preserve all nutritional value.

Organic flax oil is the richest vegan/vegetarian source of omega-3 essential fatty acids (EFAs). Since our bodies cannot produce EFAs, they must be obtained from our diet. Our bodies depend on EFAs as the cornerstone of normal cell function. On average 50% ALA (omega-3), which our bodies convert into DHA and EPA.

The opaque packaging protects against the nutritionally depleting effects of light and oxygen.