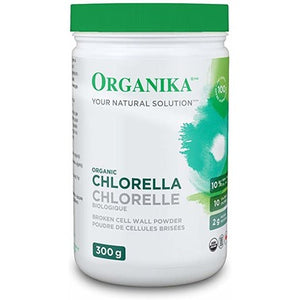 Regular price
Organika Chorella Broken Cell Powder
---
Chlorella is a green algae rich in chlorophyll and grown in fresh water, similar to its blue-green cousin spirulina. It contains nutrients such as iron, B vitamins, and magnesium, vital for a healthy diet. Organika finely milled Organic Chlorella Powder can be easily mixed into food or beverages and still boasts all the nutritional benefits. 
Features:
Broken cell wall for better access to the nutrients - and easier digestion
Highest known chlorophyll content known among all plants
Organic, Non GMO, Gluten Free, Vegan Friendly, Nut Free
Suggested Use (Adults): Take 1 level teaspoon for best results. No cooking required. For Vegetarian and Vegan diets. 
Ingredients: Organic Chlorella Powder (Chlorella vulgaris).