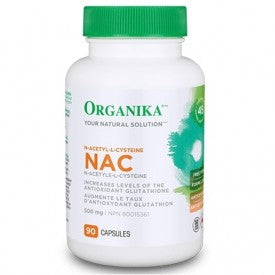 Regular price
Organika Free Form NAC 500 mg
---
NAC (N-ACETYL-L-CYSTEINE)

PRE-CURSOR TO L-GLUTATHIONE, ONE OF THE MOST IMPORTANT ANTI-OXIDANTS

Antibiotic Free
No Artificial Ingredients
Corn Free
Dairy Free
Egg Free
Gluten Free
Non GMO
Soy Free
Sustainably Sourced
Provides antioxidants to support healthy skin, tissues and organs
Fights free radicals in the body
Increases liver functioning

N-acetyl cysteine comes from the amino acid L-cysteine. Amino acids are the building blocks of proteins. N-Acetylcysteine is similar to L-Cysteine (NAC is an acetylated form) and the glutathione enzyme itself (the direct precursor to glutathione synthesis). Glutathione (GSH) is a peptide consisting of three key amino acids that play several vital roles in the body. It plays a crucial role in immune function and liver detoxification and is involved in protein disulfide bonds, which is essential for the biogenesis of human proteins.

Organika®'s NAC (N-Acetyl-L-Cystein) is USA sourced and is free of soy, dairy and gluten. It is a potent antioxidant, packed in a capsule.

RECOMMENDED USE OR PURPOSE: Increases levels of the antioxidant glutathione for the maintenance of good health.