Regular price
Platinum Naturals B-Complex
---
Platinum Naturals full-spectrum B-complex in therapeutic dosages is suspended in medium chain triglycerides (MCTs) from coconut oil. That gives you a natural sustained-release of nutrients to support energy and metabolism throughout the day.
Features:
Helps Improve Energy
Balance stress
Helps support cognitive function

Helps to maintain healthy hair, nails and skin.
Superior Nutrient Absorption™
Recommended Dosage:
One (1) softgel a day or as directed by your Health Practitioner.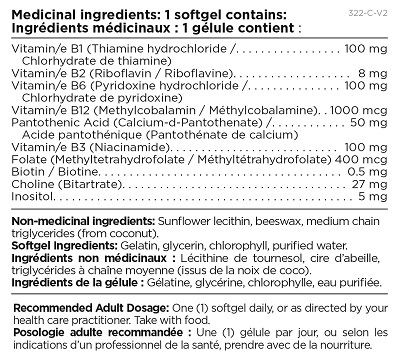 Medicinal Ingredients:
B1 100mg , B2 800mg, B6 100mg, B12 1000mg, Patothenic Acid (Calcium-d-Pantothenate) 50mg, Vitamin B3  (Niacianame) 100mg, Folate 400mcg, Biotin 0.5mg, Choline 27mg and Insolitol.
Non-Medicinal ingredients:
Sunflower Lecithin, Beeswax, Medium Chaing of Triglycerides (from Coconut). Softgel ingredients: Gelatin, Glycerine, Chlorophyll and Purified Water.
Warning:
 If you are pregnant or breastfeeding, have a liver disease, kidney disease or seizure desorder, consult your health practitioner prior to use. Folate supplementation can mask B12 deficiency. If you are unsure whether you are taking enough vitamin B12 consult your Health practitioner prior use.