Regular price
Progressive Harmonized Fermented Vegan Protein Powder
---
Bacterially Fermented Vegan Protein
Harmonized Fermented Vegan Protein contains a blend of 5 bacterially fermented non-gmo legumes, grains & seeds. It includes Fermented Pea Protein Isolate, along with a custom fermented blend of Organic Sprouted Amaranth, Quinoa, Millet and Pumpkin Seed. This fermented process is aided by the non-dairy probiotics, Lactobacillus plantarum and Saccharomyces cerevisiae. 
Each scoop provides 22 grams of fermented vegan protein which, when combined with regular training and a healthy balanced diet, assists in the building of lean muscle. But perhaps, most importantly, Harmonized FERMENTED Vegan Protein also helps to support and maintain a healthy digestive system.  
It is gluten free, made entirely of plant-based ingredients and is completely free of artificial flavours, colours and sweeteners. It also has a rich and creamy taste that will pleasantly surprise you. 
Suggested Use: Helps support and maintain a healthy digestive system.
Source of protein and amino acids which help to build and repair body tissues
and are involved in muscle protein synthesis. Source of fibre for the
maintenance of good health.

Suggested Dose (Adults): Mix 1 scoop (32.25 g) into 300 ml of the beverage of
your choice. Consume 1 serving daily. Harmonized FERMENTED Vegan Protein
can be enjoyed at any time of day including between meals or immediately
following exercise.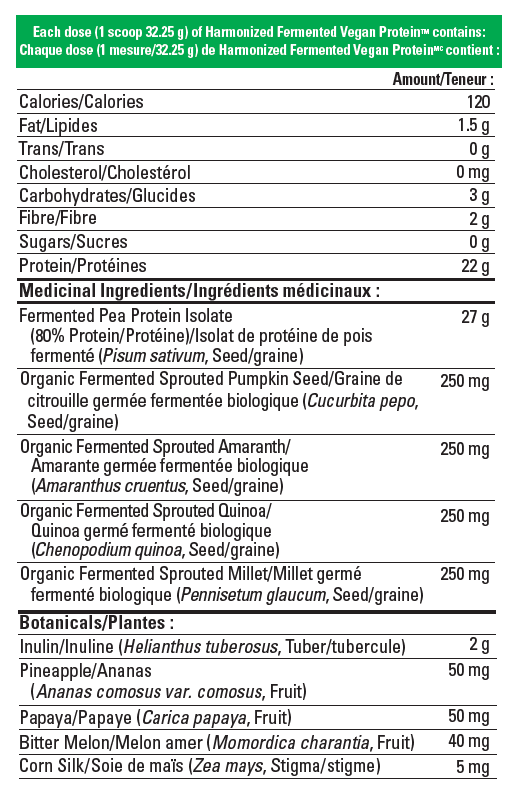 Non-Medicinal Ingredients: Natural and Organic Flavours, Stevia Leaf Extract,
Monk Fruit, Xanthan Gum.

Cautions: Consult a health care practitioner prior to use if you are pregnant or breastfeeding, or if you have liver or kidney disease. Hypersensitivity has been known to occur.