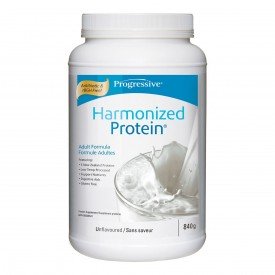 Regular price
Progressive Harmonized Protein Unflavoured
---
The Cleanest Protein Possible

Harmonized Protein
 features a blend of proteins imported from New Zealand. The cattle that produce the milk used to create these proteins are grass fed year round and raised without the use of growth regulating steroids or milk inducing hormones (including rBGH). The milk is free of antibiotics and is routinely screened for over 200 agricultural and chemical contaminants. 
The individual proteins are manufactured using a variety of low temperature filtration processes in order to help retain their nutritional value. In combination, they provide an excellent source of protein which helps to build and repair body tissues. Harmonized Protein also contains a family of botanical ingredients that includes Betula pubescens, Zea mays, Bitter Gourd, and Spirulina.
Harmonized Protein has been professionally formulated, energetically tested and contains no artificial flavours, colours, or sweeteners. It can be blended into a delicious high protein shake and enjoyed at any time of day, including before or after exercise. 
CONTAINS
30G SCOOP
Calories
115
Fat
1 g
Trans
0 g
Cholesterol
50 mg
Carbohydrates
2.5 g
Sugars
1 g
Protein
24 g
Medicinal Ingredients
 
New Zealand Whey Protein Concentrate (80% Protein)
24 g
New Zealand Whey Protein Isolate (90% Protein)
4,000 mg
New Zealand Milk Protein Isolate (85% Protein)
1,000 mg
Colostrum
50 mg
Lactoferrin
20 mg
DL-Alpha Lipoic Acid
15 mg
Botanicals
 
Organic Flax Seed (Linum usitatissimum)
100 mg
Downy Birch (Betula pubescens, Leaf)
50 mg
Dulse
25 mg
Spirulina platensis (Broken Cell)
25 mg
Kelp (Ascophyllum nodosum, Thallus)
25 mg
Bitter Gourd (Momordica charantia, Fruit)
20 mg
Papaya (Carica papaya, Fruit)
15 mg
Pineapple (Ananas comosus var. comosus, Fruit)
15 mg
Corn Silk (Zea mays, Stigma & Style)
5 mg
Non-Medicinal Ingredients
 
(Unflavoured): Guar Gum, Lecithin.