Regular price
Progressive VegEssential All in One Unflavoured
---
VegEssential All in Onel™
 combines the benefit of an entire cupboard full of supplements with the ease of consuming a single smoothie. This simple to use all-in-one formula not only provides unmatched nutritional density, it also provides unmatched convenience.
VegEssential All in One™ 
embraces the wisdom of consuming an alkaline-forming, whole-food diet and draws on almost 100 plant-based ingredients to deliver an incredible spectrum of both micro and macro nutrients.
Each scoop contains more than 4 eggs* without relying on any animal sources. It also supplies more fibre than a bowl of oatmeal, provides antioxidants (with an ORAC score of ~5,000 units) and exceeds 100% of the RDA of 13 vitamins and minerals. 
VegEssential All in One™ makes an ideal breakfast smoothie or can be enjoyed any time of day, including before or after exercise. It is trans fat and cholesterol free, and contains no artificial flavours, colours or sweeteners. 
* Based on data from the Canadian Nutrient File. 
Suggested Dose (Adults): As a factor in the maintenance of good health, add 1 scoop (43 g) of VegEssential All in One™ into 350-400 ml of the beverage of your choice. Consume once daily.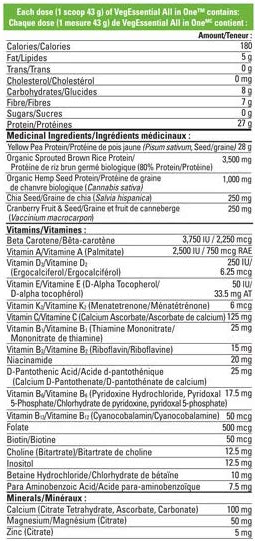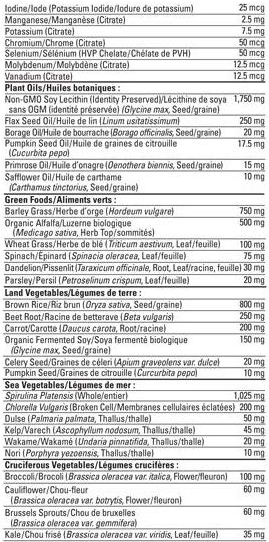 Non-Medicinal Ingredients: Xanthan Gum. 

Cautions: Consult a health care practitioner prior to use if you are pregnant, breastfeeding; if you have a liver disorder; if you have an iron deficiency; if you have diabetes; or, for rare use beyond 12 weeks. Rare, unpredictable cases of liver injury associated with green tea extract- containing products have been reported (in Canada and internationally). Stop use if you develop symptoms of liver trouble such as yellowing of the skin/eyes (jaundice), stomach pain, dark urine, sweating, nausea, unusual tiredness and/or loss of appetite and consult a health care practitioner.