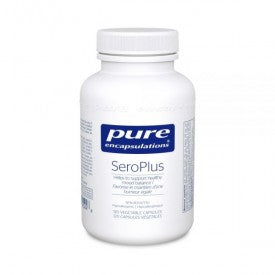 Regular price
Pure Encapsulations SeroPlus 120 Veggie Caps
---
SEROPLUS
Provides the serotonin precursor 5-HTP
Includes vitamin C, vitamin B6, zinc and folate (Metafolin® L-5MTHF) cofactors
SeroPlus was developed by Pure Encapsulations in conjunction with Dr. James Greenblatt as part of The Integrative Mental Health Series, a line of products based on scientific findings and decades of clinical experience. SeroPlus contains 5-HTP to support healthy mood balance by providing serotonin building blocks. By helping to form serotonin, 5-HTP balance serotonin function in the brain for emotional wellness. Also critical to each formulation in this series is the inclusion of vitamin B6, zinc and Metafolin® L-5-MTHF cofactors; L-5MTHF is the form of folate that easily crosses the blood-brain barrier.
These nutrients are often depleted in individuals due to medications, inadequate diets and toxic environmental exposures, compromising the ability to properly metabolize nutrients. Along with zinc, vitamin B6 is a cofactor in amino acid metabolism, including the metabolism of 5-HTP into serotonin.
Medicinal Ingredients (per capsule):
Inositol (myo-inositol) 250 mg, Taurine 100 mg, L-5- HTP (L-5-hydroxytryptophan from Griffonia simplicifolia seed) 50 mg, Vitamin C (ascorbic acid) 50 mg, Magnesium (dimagnesium malate) 50 mg, Niacinamide 10 mg, Zinc (zinc picolinate) 5 mg, Vitamin B6 (pyridoxal 5'-phosphate) 3.4 mg, Folate (calcium L-5-methyltetrahydrofolate, Metafolin®) 250 mcg.
Non-Medicinal Ingredients:
Hydroxypropyl methylcellulose, Purified water.