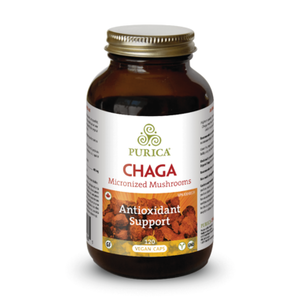 Regular price
Purica Chaga
---
Chaga is known for its remarkably high levels of antioxidants (approximately 50 times that of blueberries).  A dark, woodlike fungus that is also a rich source of powerful phytochemicals such as sterols, phenols, beta-glucans and melanin, Purica Chaga is lab-grown and micronized to improve absorption and potency by 5 to 10 times.  For benefits beyond antioxidants and stress relief, Purica Chaga is a potent immune system enhancer. It's another in the fine line of natural health food and supplements from Purica.
Features:
Source of B-complex – group of water-soluble vitamins that play important roles in cell metabolism
High zinc content
Superoxide dismutase (SOD) – antioxidant defense in nearly all cells exposed to oxygen – contains 10,000-20,000 active SOD units per gram, an exceedingly high amount
Beta glucans – noted for their ability to modulate the immune system
Directions:
Take 1 capsule 4 times daily, or as recommended by your healthcare professional.

Ingredients:
Contains micronized certified organic Chaga cultivated in the lab using only organic plant materials for the fuel source.
Chaga (Inonotus obliquus) whole micronized mushroom complex....250 mg