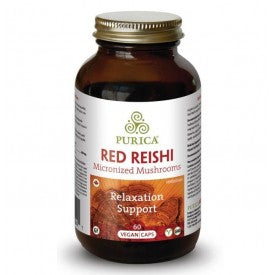 Regular price
Purica Red Reishi
---
Since ancient times, Red Reishi was reserved for emperors and royalty and has long been used in Asia as an energy tonic to promote longevity and overall health. A much revered mushroom, Red Reishi is now recognized as a powerful adaptogen and immunomodulator that can bring about enhanced balance and rejuvenation of the body.
Features
:
Encourages sleep
Relieves anxiety and stress
Promotes healthy moods, memory and concentration
Balances energy
Strengthens the immune system
Detoxifies and tones the liver and bowel
Directions: Take 2 Purica Red Reishi capsules 2 times a day, or as recommended by your healthcare professional
Ingredients: Each capsule contains nano-particle size certified organic Reishi strain cultivated in the lab using only organic plant materials for the fuel source.