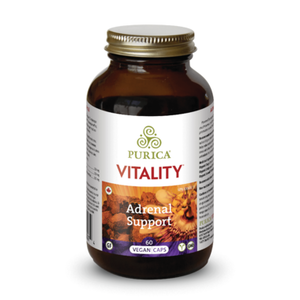 Regular price
Purica Vitality Adrenal Support
---
Purica Vitality Adrenal Support formula contains a combination of natural ingredients recognized for their ability to calm and restore balance within overworked adrenal glands.
While the symptoms of adrenal exhaustion vary from person to person, they most commonly involve the inability to sleep, fatigue, lack of energy in the mornings and/or afternoons, increase in energy in the late evenings, irritability, cravings for sweet foods, weight gain and a weakened immune response.
Benefits of Purica Vitality Adrenal Support:
Helps the body to better handle stress
Reduces tension and disharmony
Reduces cortisol production
Reduces inflammation
Improves cardiovascular health
Increases DHEA and sports endurance
Stimulates the immune system
A rich source of antioxidants
Directions:
Take 2 capsules daily or as recommended by a healthcare professional.

Ingredients: