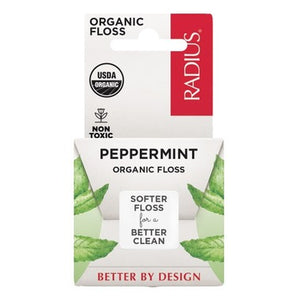 Regular price
Radius Organic Peppermint Floss
---
Radius Peppermint Floss is soft floss coated with xylitol.

Say goodbye to wasteful plastic flossers with stylish and convenient Radius Floss!

Features:

Super soft, spongy floss for total tooth and gum protection
Coated with 100% natural USA-sourced Xylitol for aiding gum health
100% Vegan and no GMO's, Glutens, Sweeteners OR Preservatives 
50m                                                       
Directions: Use daily after every meal. Wind floss around index fingers, leaving about 4' between. Slide between teeth, curve floss around tooth and move up and down.