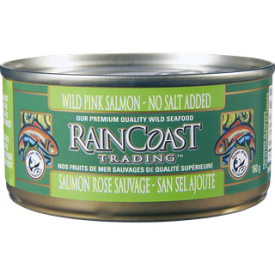 Regular price
Rain Coast Pink Salmon No Salt 160g
---
Raincoast Trading was founded by a fishing family who wanted to see their high quality local products preserved in a way that would be accessible to more people.  They wanted to show consumers accustomed to low quality imported canned products that there was a different way - that quality, pride and sustainability produce a product vastly superior to their conventional counterpart.

Features:
No bleaching or pre-cooking
No added water or oil
Rich in natural omega 3 oils
Product of Canada
Caught in the Pacific Northwest from sustainably certified fisheries
ngredients: 
Pink Salmon. No Added Salt.