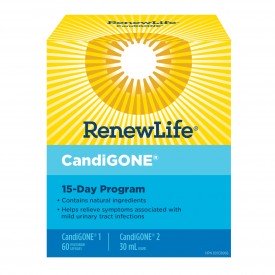 Regular price
Renew Life CandiGONE 15 Day Program
---
CANDIGONE
15 DAY PROGRAM
NON-GMO
Corn Free
Egg Free
Dairy Free
Soy Free
Gluten Free
Mustard Free
Peanuts Free
Seafood Free
Sesame Free
Tree Nuts Free
Wheat Free
No Animal Products
No Artificial Colour or Preservatives, Binders or Fillers
Renew Life® CandiGONE® is a two-part, 15 day herbal cleanse that contains ingredients which have been traditionally used in Herbal Medicine to aid digestion and relieve symptoms of urinary tract infections.
CANDIDA AND UTI TARGETED: Program designed to relieve symptoms of UTI's, Candida, and more.
HERBAL INGREDIENTS: CandidGONE® Part I is a potent herbal formula delivered in vegetable capsules that contain uva-ursi which helps to relieve urinary tract infection symptoms, as well as caprylic acid and neem leaf.CandiGONE® Part II is a liquid tincture containing herbal extracts that aid digestion, including oregano leaf, orange peel, Oregon grape root, Pau D'Arco root bark, cinnamon bark, clove bud, and peppermint leaf.
SIMPLE DAILY USE: Designed for fast cleansing abilities which target the urinary tract. CandiGONE is also shelf-stable meaning it does not need to be refrigerated and is great for travel and on-the-go users
NON GMO: This product does not contain genetically modified material. Contains no dairy, gluten, or soy.
QUALITY CHECKED IN CANADA: All Renew Life Canada products go through a rigorous testing program.
Ingredients:
CandiGONE® 2 contains (per 1 mL)

Oregano Leaf (Origanum vulgare)

39.6 mg

Orange Peel (Citrus sinensis)

33 mg

Oregon Grape Root (Mahonia aquifolium)

33 mg

Pau D'Arco Root Bark (Tabebuia heptaphylla)

33 mg

Cinnamon Bark (Cinnamonium cassia)

20 mg

Clove Bud (Syzgium aromaticum)

20 mg

Peppermint Leaf (Mentha piperita)

20 mg
Non-medicinal Ingredients:
Filtered water, ethyl alcohol. Contains no tree nuts, peanuts, sesame, mustard, wheat, gluten, egg, dairy, soy, seafood (fish, crustaceans, shellfish), animal products, artificial colour or preservatives, binders or fillers.