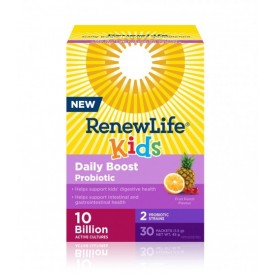 Regular price
Renew Life Kids Daily Boost Probiotic 10 Billion 30 Packs
---
KIDS DAILY BOOST PROBIOTIC
Source of probiotics.
Helps support intestinal and gastrointestinal health.
Could promote a favourable gut flora.
Helps support digestive and respiratory tract health.
Sweetened with tooth-friendly xylitol.
No refrigeration required.
Non-GMO. This product does not contain genetically modified material.
Quality, purity, and potency guaranteed at expiry.
Renew Life Kids Daily Boost Probiotic is formulated with 10 billion active cultures and 2 clinically-studied probiotic strains to support kids' digestive and respiratory systems. Taken daily, this innovative probiotic supplement helps support respiratory-tract and intestinal and gastrointestinal health. Offered in a convenient, fast-melting powder format that's fun for kids to take, Kids Daily Boost Probiotic also has a delicious Fruit Punch flavour and is free of added sugar, gluten, dairy and soy.
Ingredients 
Kids Daily Boost Probiotic – Each packet contains
Bifidobacterium animalis subsp. lactis (UABla-12) – Whole Cell ………………………………. 5.75 Billion CFU
Lactobacillus acidophilus (DDS®-1) – Whole Cell ………………………………. 4.25 Billion CFU
Non-medicinal Ingredients: Xylitol, inulin, polydextrose, natural fruit punch flavour, natural cherry flavour, silica, ingredients used to maintain the viability of live microorganisms (trehalose, sucrose, dipotassium phosphate, monobasic potassium phosphate).
Contains no dairy, egg, gluten, mustard, peanuts, seafood (fish, crustaceans, and shellfish), sesame, soy, tree nuts, wheat, animal products, artificial colour or preservatives, binders or fillers.