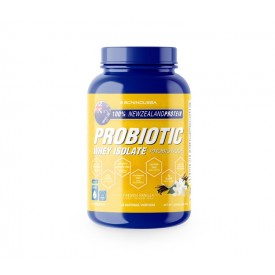 Regular price
Schinoussa Probiotic Whey Isolate Vanilla 910g
---
Details
Probiotic Whey Vanilla Silk
Probiotic Whey is the new gold standard for protein supplements. Combining PROLIFETM (a proprietary blend of six probiotics) to 100% New Zealand whey isolate protein not only improves overall gut health and boosts the immune system -- it improves overall protein and nutrient bio-availability.
Benefits
* 5 billion CFU PROLIFETM probiotics per serving
* 25g of protein per serving
* 100% New Zealand Whey. Non-GMO; Antibiotic, Hormone and Pesticide Free
* 100% Natural. No preservatives, colours, wheat, gluten, yeast, artificial flavours or sweeteners.
The benefits of Whey are now exponential with the addition of Probiotics! Probiotic Whey Isolate provides the added advantage of greater adsorption of daily nutrients, increased production of B-vitamins and more protein absorption. Protein with probiotics increases the known benefits of lean muscle tissue, fat loss, immune function, digestion and anti-aging.
Whey protein in an excellent protein choice for individuals of all ages who value the role of a healthy diet in helping to maintain and improve their health. Whey protein isolate, the purest form available, is unsurpassed as a source of the essential amino acids required in the daily diet. Essential amino acids are the building blocks for healthy muscles, skin, nails and other body tissue. Whey protein is a naturally complete protein, meaning that it contains all of the essential amino acids required in the daily diet. It has the ideal combination of amino acids to help improve body composition and enhance athletic performance. Recent studies by Dr. Donald Layman, a professor at the University of Illinois, have highlighted the role of the essential amino acid leucine in improving body composition. High quality whey protein is rich in leucine to help preserve lean muscle tissue while promoting fat loss. Whey protein contains more leucine than milk protein, egg protein and soy protein.
Protein helps to stabilize blood glucose levels by slowing the absorption of glucose in the bloodstream. This in turn reduces hunger by lowering insulin levels and making it easier for the body to burn fat.
The probiotics in this product provide for increased health and immunity benefits. Probiotics are healthy, living bacteria that are naturally good for you. They have been used for centuries in yoghurt and other fermented milk products. They can help strengthen and maintain the natural intestinal balance – a balance that plays an important role in our overall health and immunity. 70% of the immune system is located in the digestive system.
Probiotic whey isolate is hormone and antibiotic free making it the cleanest, purest and most utilized protein on the market.
SUPPLEMENT FACTS:
New Zealand ion exchanged undenatured whey isolate, Bifidobacterium bifidum HA-132, Bifidobacterium longum A-135, Lactobacillus acidophilus HA-122, Lactobacillus paracasei HA-196, Lactobacillus rhamnosous HA-111, Lactobacillus rhamnosous (B) HA-114, Bromelain, Stevia.
Added for flavour:  Swiss Chocolate – Cacao and natural chocolate flavour.  Vanilla Silk – Vanilla bean and natural vanilla flavour.  Natural Zest – Unflavoured.
Probiotic 5 billion cfu per serving – 100% human strain, shelf stable probiotics. 0 fat, 0 carbs, 0 sugars. Free of hormones, antibiotics, MSG and GMO's.