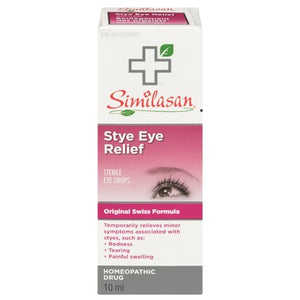 Regular price
Similasan Stye Eye Relief Homeopathic Drug 10 mL
---
It starts with tenderness and redness around the eye... the beginning of a stye. Now you have a way to soothe the discomfort you feel. Similasan Stye Eye Relief sterile eye drops stimulate the body's natural ability to temporarily relieve symptoms of styes, such as redness, burning, and tearing.

Features:

No Harsh Vasoconstrictors
Gluten Free
Dairy Free
Homeopathic remedy for use in temporarily relieving the minor symptoms associated with styes such as redness, tearing, painful swelling
How to Use:
Adults and children ≥ 12 years: apply 2-3 drops, 3 times per day.                         
Children 1-11 years: apply 1-2 drops, 3 times per day. Acute dosing: 1 drop in the affected eye every 15 minutes for a maximum of 3 hours. Remove tamper-evident seal from neck of bottle. Twist cap off bottle. Squeeze plastic tip to release drops into eye. Apply according to the information above up to 72 hours . Replace cap after use. If desired use with warm moistened washcloth placed directly on eyelid.

Ingredients: Medicinal ingredients: Conium maculatum, conium (fresh aerial parts) 6X; graphites, (naturally occuring mineral graphite) 12X; sulfur, (sublimed sulfur) 12X, Non-medicinal ingredients: Purified water, sodium nitrate, borax, boric acid (as buffering agents), silver sulphate (as preservative), lactose.

Warnings: For external use only. Initial exacerbation of symptoms may occur. Use only if bottle seal is intact. Replace cap tightly after every use. To avoid contamination, do not touch the tip of the container to any surface. Discard open bottle after 30 days. Contact wearers: consult a health care practitioner before use if pregnant or breast feeding. Keep this and all medicines out of the reach of children. In case of accidental overdose, get medical help or contact a poison control center immediately.
Do not use: If the solution changes color or becomes cloudy or if the condition is accompanied by fever.
Stop use and ask a doctor if: Symptoms worsen or persist for more than 72 hours, changes in vision occur, you experience eye pain, the stye enlarges, or the stye opens, draining discharge or pus into the eye.