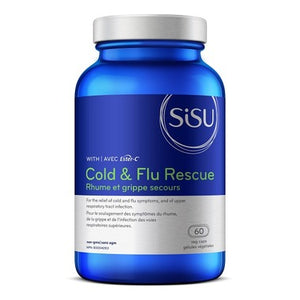 Regular price
SISU Cold & Flu Rescue with Ester-C
---
SISU Cold & Flu Rescue with Ester-C is for the relief of cold and flu symptoms and of upper respiratory tract infection.

Features:
Ester-C is a unique, non-acidic and easier to digest form of vitamin C clinically proven to last up to 24 hours in the white blood cells of the immune system
NAC (N-acetyl-L-cysteine) protects lungs against respiratory infection and reduces phlegm and symptoms of chronic bronchitis
The natural sulphur content of NAC is what gives the product its distinctive odour
Andrographis is an anti-inflammatory herb that stimulates the immune system and helps against cold and flu symptoms including sore throat
High-potency echinacea extract is a powerful immune stimulant and is most effective when taken at the onset of infection
Does not have any of the sedative or other side effects of over-the-counter drugs
SISU Advantages:

Fast-dissolving, vegetarian capsule
Contains no ingredients that are a source of gluten
Good Manufacturing Practices standards
Tested for guaranteed purity and potency
Tested for pesticides and herbicides
NPN approved
Medicinal:

 

(per capsule) Vitamin C (Calcium ascorbate)...300 mg - from Ester-C® brand calcium ascorbate; Andrographis (Andrographis paniculata) leaf extract...200 mg - standardized to contain 10% andrographolides; N-acetyl-L-cysteine (NAC)...200 mg; Purple coneflower extract (Echinacea purpurea) (aerial parts/root) 4:1...60 mg - equivalent to 240 mg of purple coneflower; Narrow-leaf echinacea (Echinacea angustifolia) (root) 5:1 extract...45 mg - equivalent to 225 mg of narrow-leaf echinacea, standardized to contain 4% echinacosides
Non-medicinal:

 

magnesium stearate (vegetable).
Coating:

 

hypromellose
Adult dosage:
 Take 2 capsules 3 times daily or as directed by a health care practitioner.