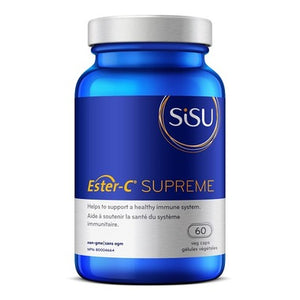 Regular price
SISU Ester-C Supreme
---
SISU Ester-C Supreme Powder helps to support a healthy immune system. For the maintenance of good health.

Features:
Ester-C® is a unique, patented form of calcium ascorbate, which is made when ascorbic acid (regular vitamin C) is buffered with calcium using a water-based process
The calcium in Ester-C® provides part of your daily calcium requirements
Ester-C® contains active vitamin C metabolites including L-threonate which enhance cellular absorption and retention
Ester-C® is the only form of vitamin C that has been proven to last up to 24 hours in the white blood cells of the immune system
Less acidic and easier on the stomach than ascorbic acid
Enhanced with quercetin, a bioflavonoid and powerful antioxidant with anti-inflammatory and anti-histamine properties
Added bioflavonoids from berry fruits for superior vitamin C absorption
Arabinogalactan is a type of polysaccharide that offers additional immune support during stressful times and the cold and flu season
Ester-C® has a clinically proven higher bioavailability and retention rate than other forms of vitamin C
Formulated with citrus-free ingredients for people wishing to avoid citrus
SISU Advantages:

Easy-to-swallow, fast-dissolving vegetarian capsule
Suitable for vegans
Contains no ingredients that are a source of gluten
Good Manufacturing Practices standards
Tested for guaranteed purity and potency
NPN approved
Ingredients:
Medicinal:

 

(per Capsule) Vitamin C (calcium ascorbate)...600 mg - from Ester-C® brand calcium ascorbate; Arabinogalactan (Larix occidentalis) bark...100 mg; Quercetin (fruit)...50 mg; Multianthocyanidins (berry/fruit*)...50 mg. *bilberry, cranberry, black currant, grape
Non-Medicinal:

 

magnesium stearate (vegetable).
Capsule Shell:

 

hypromellose.
Dosage:
 (Adult) Take 1-2 capsules daily or as directed by a health care practitioner.