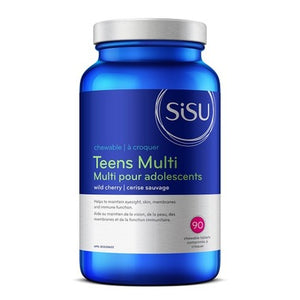 Regular price
SISU Teens Multi
---
SISU Teens Multi is a multi vitamin and mineral supplement for the maintenance of good health.
Features:
Complete multivitamin plus a calcium supplement all in one
Full complex of B vitamins to help handle stress, support mood, brain function, nervous system, and cardiovascular health
Ester-C®, a type of antioxidant vitamin C, is less acidic and has been proven to last up to 24 hours in the white blood cells
Formulated with a higher dose of calcium to support bone mass development and healthy teeth
Vitamins A, C and D as well as zinc support immune health
Adequate intake of essential vitamins and minerals supports mental health (mood and learning) as well as physical health (performance and recovery)
Natural wild cherry flavour
SISU Advantages:
Easy-to-take, chewable tablets
All natural flavours and sweeteners
Good Manufacturing Practices standards
Tested for guaranteed purity and potency
NPN approved
Ingredients:

Medicinal:

 

(per tablet) Vitamin A (vitamin A palmitate)...100 mcg RAE
(equivalent to 334 IU vitamin A activity)
Beta carotene...50 mcg RAE
(equivalent to 100 mcg (334 IU) beta carotene)
Thiamine (thiamine mononitrate)...1 mg
Riboflavin (riboflavin/riboflavin-5-phosphate)...1 mg
Niacinamide...3 mg
Pantothenic acid (calcium-d-pantothenate)...5 mg
Vitamin B6 (pyridoxine hydrochloride/pyridoxal-5-phosphate)...2 mg
Vitamin B12 (cyanocobalamin)...5 mcg
Folate (folic acid)...100 mcg
Biotin...25 mcg
Vitamin C...30 mg
(sodium ascorbate/calcium ascorbate) (Ester-C® brand)
Vitamin D (cholecalciferol)...3.25 mcg
(equivalent to 130 IU vitamin D3 activity)
Vitamin E (d-alpha-tocopheryl succinate)...13.4 mg AT
(equivalent to 20 IU vitamin E activity)
Calcium (calcium carbonate)...275 mg
Magnesium (magnesium oxide/magnesium citrate)...50 mg
Zinc (zinc citrate)...3 mg
Copper (copper (II) citrate)...500 mcg
Iodine (potassium iodide)...20 mcg
Choline (choline bitartrate)...10 mg
Inositol...10 mg
Non-medicinal:

 

fructose, dextrose, stevia leaf powder, cherry juice concentrate, natural flavours (cherry, tropical punch: raspberry, tangerine, cherry), citric acid, silicon dioxide, magnesium stearate (vegetable), stearic acid (vegetable).

Dosage:
 (Teen) Chew 1 tablet 3 times daily with food a few hours before or after taking other medications or as directed by a health care practitioner.