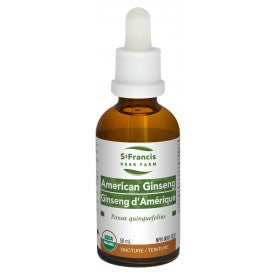 Regular price
St.Francis American Ginseng 50mL
---
AMERICAN GINSENG
Organic
Gluten Free
Non GMO
Dairy Free
Soy Free
Vegan
Vegetarian
American Ginseng is used in Herbal Medicine as a supportive therapy for the promotion of healthy glucose levels. It is also traditionally used in Herbal Medicine to help maintain a healthy immune system, to help relieve nervousness (as mild sedative) and nervous dyspepsia, and to help digestion in cases of nervousness and/or stress.
American Ginseng is an adaptogen that does not overstimulate. Adaptogens improve resistance to life stressors, increase energy and stamina, and enhance work capacity. American ginseng is also used for low libido and impotence, and as a blood sugar balancer.
St. Francis Herb Farm's American Ginseng tincture is certified organic.