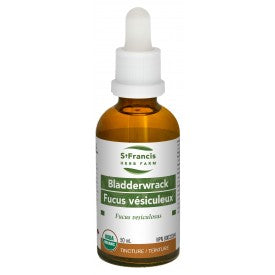 Regular price
St.Francis Bladderwrack 50mL
---
BLADDERWRACK
Organic
Gluten Free
Non GMO
Dairy Free
Soy Free
Vegan
Vegetarian
Bladderwrack is traditionally used in Herbal Medicine as an alterative tonic for the thyroid gland.
Bladderwrack is beneficial in the treatment of thyroid disorders, iodine deficiency, lymphadenoid goiter, digestive ailments, constipation, and genitourinary disorders, as well as decreased resistance to disease and anxiety.
St. Francis Herb Farm's Bladderwrack tincture is certifed organic.