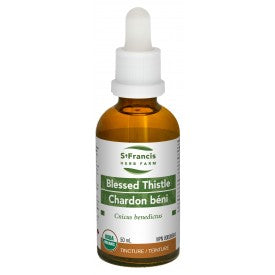 Regular price
St.Francis Blessed Thistle 50mL
---
BLESSED THISTLE
Organic
Gluten Free
Non GMO
Dairy Free
Vegan
Vegetarian
Blessed Thistle is used in Herbal Medicine as a digestive tonic and bitter to increase appetite and aid digestion (stomachic), to help relieve dyspepsia, and as an expectorant to help relieve cold symptoms such as excessive catarrh.
Blessed Thistle is also used for loss of appetite and indigestion, to promote lactation, and to treat colds and fever.
St. Francis Herb Farm's Blessed Thistle tincture is certified organic.