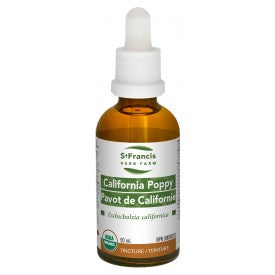 Regular price
St.Francis California Poppy 50mL
---
CALIFORNIA POPPY
Organic
Gluten Free
Non GMO
Dairy Free
Soy Free
Vegan
Vegetarian
California Poppy is traditionally used in Herbal Medicine as a mild sedative and/or sleep aid and as an analgesic.
California Poppy acts as a mild sedative and analgesic and is effective in treating anxiety and conditions in which anxiety plays a significant role. It is also used to soothe a disturbed sleep.
St. Francis Herb Farm's California Poppy tincture is certified organic.