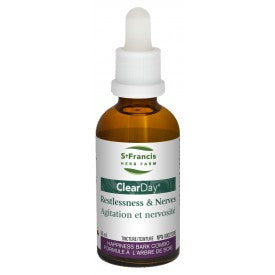 Regular price
St.Francis Clear Day 50mL
---
CLEAR DAY

Gluten Free
Non GMO
Dairy Free
Vegan
Vegetarian

Used in Herbal Medicine to help relieve restlessness and/or nervousness (sedative and/or calmative).

Clear Day® helps promote healthy mood balance and helps relieve sleep disturbances associated with mood imbalance. Clear Day is a carefully crafted combination of four nerve-restoring herbs, including St. John's wort, which is recognized for the role it can play in helping with depression.

Complementing the St. John's wort in Clear Day® are three expertly chosen herbs of distinct but similar action, each of them offering its own unique dimension in facilitating emotional health.


St. Francis Herb Farm uses either certified organic or wildcrafted herbs our Clear Day formula.