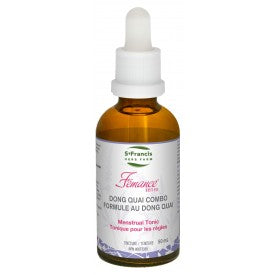 Regular price
St.Francis Dong Quai Combo 50mL
---
DONG QUAI COMBO
Gluten Free
Non GMO
Dairy Free
Soy Free
Vegan
Vegetarian
Dong Quai Combo
Is used in Herbal Medicine: (1) as as a uterine tonic; (2) to help relieve premenstrual symptoms; (3) to help relieve the pain associated with menstruation; (4) to help relieve muscle and joint pain associated with rheumatic conditions (such as rheumatoid arthritis, osteoarthritis, and/or fibrositis) and pain associated with neuralgia (such as sciatica)
Easing Painful Periods & PMS

A classic Chinese plant remedy, Dong Quai is the featured ingredient in this formula, which consists of seven masterfully combined herbs. Dong Quai has been praised for its positive estrogenic healing role. As such, it provides the perfect keynote to a herbal combination of this nature, which was created to treat problems associated with the female reproductive tract, especially menstrual disorders.

Dong Quai Combo is the ideal answer to painful periods (dysmenorrhea) and premenstrual tension. In addition, it acts as a wonderfully effective general tonic for gynaecological issues of the reproductive tract.
St. Francis Herb Farm's Dong Quai Combo ingredients are Wildcrafted/Certified Organically Grown.