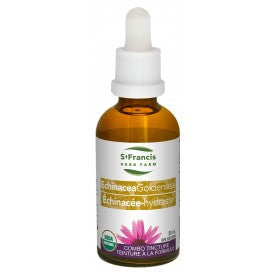 Regular price
St. Francis Echinacea Goldenseal 50mL
---
ECHINACEA GOLDENSEAL
Organic
Gluten Free
Non GMO
Dairy Free
Soy Free
Vegan
Vegetarian
Echinacea angustifolia is traditionally used in Herbal Medicine to help relieve the symptoms of upper respiratory tract infections and sore throats.
This herbal formula contains two herbs with infection-fighting properties: Echinacea angustifolia and Goldenseal. It can be used to fight a variety of infections, especially bacterial infections, and is excellent for treating sore throats and gastrointestinal infections. 
St. Francis Herb Farm uses either certified organically grown or wildcrafted herbs in our Echinacea Goldenseal herbal formula.