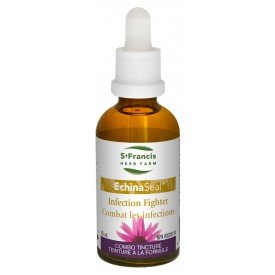 Regular price
St.Francis EchinaSeal 50mL
---
ECHINASEAL
Gluten Free
Non GMO
Dairy Free
Soy Free
Vegetarian
EchinaSeal® helps to relieve sore throats and/or mouth and throat infections.
EchinaSeal® - Our Foremost Infection Fighter

Same Great Formula, Same Reassuringly Awful Taste

Featuring Echinacea and Goldenseal, EchinaSeal® has stood the test of years and remains one of our most highly regarded herbal formulas. Its bitter taste is its distinctive signature, a unique warrant of its outstanding effectiveness. This is the perfect remedy for upper respiratory infections—it doesn't matter whether they're viral or bacterial. If used at the first signs of cold or flu, more often than not EchinaSeal® will nip them in the bud.
St. Francis Herb Farm's EchinaSeal® ingredients are Wildcrafted/Certified Organically Grown.