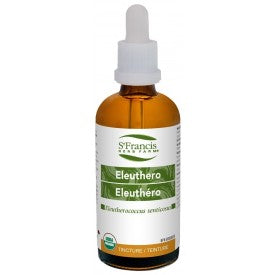 Regular price
St.Francis Eleuthero 50mL
---
ELEUTHERO (SIBERIAN GINSENG)
Organic
Gluten Free
Non GMO
Dairy Free
Soy Free
Vegan
Vegetarian
Eleuthero is used in Herbal Medicine as a tonic to help relieve general debility and improve mental and physical performance after periods of mental and physical exertion.
Eleuthero (Siberian Ginseng) serves as an immune system stimulant and as an adaptogen, enhancing resistance to environmental stress. It is also used to prevent colds and flu, normalize high or low blood pressure, increase work capacity, improve athletic performance, and reduce the toxicity of chemotherapy, as well as for chronic fatigue syndrome, neuroses, insomnia, fibromyalgia, rheumatoid arthritis, and the symptomatic treatment of herpes simplex type II infections.
St. Francis Herb Farm's Eleuthero tincture is certified organic.