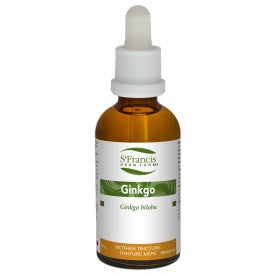 Regular price
St.Francis Ginkgo 50mL
---
GINKGO
Organic
Gluten Free
Non GMO
Dairy Free
Soy Free
Vegan
Vegetarian
Ginkgo is used in Herbal Medicine to support peripheral circulation.
Ginkgo leaf is used for vascular and mixed dementia, as well as Alzheimer's, and to treat conditions associated with cerebral vascular insufficiency, especially in the elderly, including memory loss, headache, tinnitus, vertigo, dizziness, difficulty concentrating, mood disturbances, and hearing disorders; it is also beneficial for improving cognitive behaviour and sleep patterns in patients with depression and for the prevention of winter depression. 
St. Francis Herb Farm uses certified organically grown or wildcrafted Gingko leaves in our tincture.